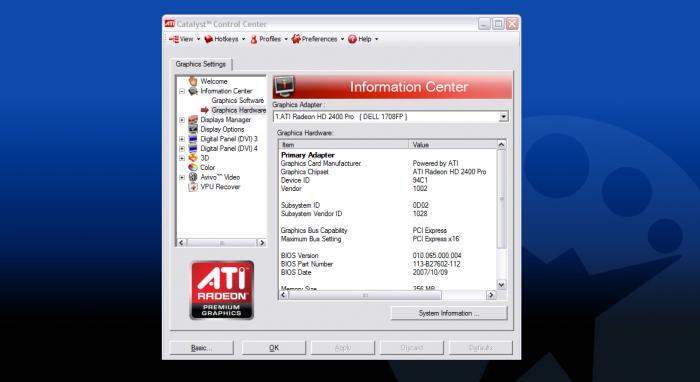 ATI Catalyst Mobility Display Driver for Windows Vista and Windows 7.
ATI Catalyst Mobility is a notebook reference graphics driver for with limited support for
system vendor specific features. Support is available for Windows Vista and Windows 7
to be used at your own risk.
The Installation Verification Software will prevent driver download on certain notebook
products. This is to protect against the installing of drivers that may disable features or
functionality provided by the system manufacturer. If unacceptable behavior is
experienced using Catalyst Mobility it is recommended to revert back to the driver
provided by your system vendor for your specific platform. Please check with your system
vendor for the most recent drivers for your notebook.
The following notebook graphics products are supported in this release:
ATI Mobility Radeon HD 5800 Series
ATI Mobility Radeon HD 5700 Series
ATI Mobility Radeon HD 5600 Series
ATI Mobility Radeon HD 5400 Series
ATI Mobility Radeon HD 5100 Series
ATI Mobility Radeon HD 4800 Series
ATI Mobility Radeon HD 4600 Series
ATI Mobility Radeon HD 4500 Series
ATI Mobility Radeon HD 4200 Series
ATI Mobility Radeon 4100 Series
ATI Mobility Radeon HD 3800 Series
ATI Mobility Radeon HD 3600 Series
ATI Mobility Radeon HD 3400 Series
ATI Mobility Radeon HD 3200 Series
ATI Mobility Radeon 3100 Series
ATI Mobility Radeon HD 2700 Series
ATI Mobility Radeon HD 2600 Series
ATI Mobility Radeon HD 2400 Series
ATI PowerXpress enabled notebooks using AMD chipsets
The following notebooks are not supported in this release:
Any notebook launched after this driver release.
Switchable Graphics enabled notebooks using Intel chipsets.
Toshiba notebooks (please check with your notebook OEM for driver support for these notebooks)
Sony VAIO notebooks (please check with your notebook OEM for driver support for these notebooks)
Panasonic notebooks (please check with your notebook OEM for driver support for these notebooks)
Operating System(s): Windows 7 – 32-Bit/64-Bit Editions
Download: ATI Catalyst Mobility Display Driver 11.7 for Windows Vista and Windows 7 32-Bit
Download: ATI Catalyst Mobility Display Driver 11.7 for Windows Vista and Windows 7 64-Bit